Astrology for Yogis – the Grahas in Jyotish
Sunday, March 8th
Jois ENCINITAS,
We are currently holding classes on-line only.
Once appropriate we will continue live classes at:
CMA (Center for Martial Arts)
2122 Encinitas Boulevard, Ste 101 [
Map
] Encinitas, CA 92024 U.S.A.
andrewh@joisyoga.com
,
juliet@joisyoga.com
Workshop fee: $donation
About
Jyotish, or Vedic Astrology shares with yoga an emphasis on transforming consciousness and enhancing one's connection with the forces of nature. In Jyotish, the churning of nature is expressed mainly through the planets, or grahas, as they are called in Sanskrit. Graha means to grip or grasp – and also to eclipse – because that is how we often experience the effects of the planets. Not only do they present a thumbnail sketch of our destinies at the time of our birth (aka our horoscopes), they also dynamically affect the course of our lives as they traverse around the zodiac – influencing choices, relationships, and events on an almost constant basis! Just as in yoga, in which practice deepens and becomes more subtle, so our understanding of the planets can grow over time, allowing us to live with more skill and awareness. This workshop aims to be a "meet and greet" with the
grahas and their energies (from a Vedic perspective) – a jumping off point for those who may not already be acquainted with them, and a refresher for those who are!
We may look at some charts in this class. If you are interested in participating in this way, please bring your birth information, including birth time, which should be as accurate as possible.
Sunday March 8th |
11:30am-1:30pm |
$27 suggested donation – cash or check only made out to 'Jesse Gordon'
About The Teacher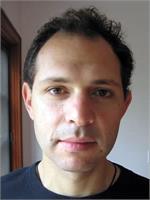 Jesse Gordon
Jesse Gordon discovered Jyotish by way of Ashtanga Yoga. He had his first reading in Mysore in 2001 and began studying right away, eventually finding his teacher Pandit Sanjay Rath, who comes from a lineage of astrologers in Orissa, India. Jesse lives in Los Angeles where he also works as a filmmaker, a pursuit he…
read more
We are currently holding classes on-line only.
Once appropriate we will continue live classes at:

CMA (Center for Martial Arts)
2122 Encinitas Boulevard, Ste 101 [Map]
Encinitas, CA 92024 U.S.A.
andrewh@joisyoga.com, juliet@joisyoga.com
Starting Address: