Astrology for Yogīs: The Nakshatras in Jyotish
About
The Nakshatras are a system of 27 smaller constellations held within the zodiac and their use as "birth stars" is one of the unique features of Vedic Astrology.  Also known as "Lunar Mansions", the Nakshatras' fundamental function is to study the moon.  Moon holds special significance in the Vedic system because it represents our minds in all their complex, ever-changing glory.  Just as, in the sky, the moon reflects the light of the sun, in a horoscope the moon shows how our minds reflect, and project who we really are.  Because we tend to "invent our own realities" by how we think, a careful study of the moon can tell us a lot about how, and what, our lives will manifest.  In this introductory class we will look at the Nakshatras both in chart-study and "panchanga", the Vedic calendar system.
If you wish, please come with your birth info as we may look at specific examples to help us understand the symbology and power of this amazing astrological tool.
Jesse Gordon discovered Jyotish by way of Ashtanga Yoga. He had his first reading in Mysore in 2001 and began studying right away, eventually finding his teacher Pandit Sanjay Rath, who comes from a lineage of astrologers in Orissa, India. Jesse lives in Los Angeles where he also works as a filmmaker, a pursuit he sees as related to Jyotish because both are about honing stories – written in light – to be as truthful, and effective, as possible.
by Donation ~ all proceeds to charity
About The Teacher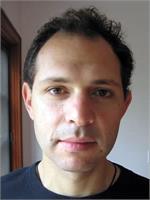 Jesse Gordon
Jesse Gordon discovered Jyotish by way of Ashtanga Yoga. He had his first reading in Mysore in 2001 and began studying right away, eventually finding his teacher Pandit Sanjay Rath, who comes from a lineage of astrologers in Orissa, India. Jesse lives in Los Angeles where he also works as a filmmaker, a pursuit he…
read more