Dominic Corigliano teaching October 15 to November 16
October 15th to November 16th 2015
Jois ENCINITAS,
We are currently holding classes on-line only.
Once appropriate we will continue live classes at:
CMA (Center for Martial Arts)
2122 Encinitas Boulevard, Ste 101 [
Map
] Encinitas, CA 92024 U.S.A.
andrewh@joisyoga.com
,
juliet@joisyoga.com
About
We are pleased to announce that Dominic will be teaching the morning Mysore program at Jois Yoga Encinitas from October 15th to November 16th 2015.
"Dominic is a teacher of rare breadth and depth of experience since having started Ashtanga Yoga with Pattabhi Jois in the early 1980s. This long continuous period of study under Guruji has provided him with unique insights into the Ashtanga method. Dom's varied interests and eventful life have also helped develop a unique and balanced philosophy and wisdom which he generously shares with his students."
Mark Yeo – Certified Ashtanga Teacher
About The Teacher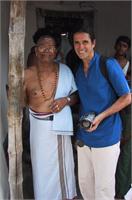 Dominic Corigliano
My approach to teaching Pattabhi Jois's Ashtanga Yoga is the aggregate of years of Practice, years of teaching, learning from Pattabhi himself, and my life. I am a Senior Teacher Certified by Pattabhi Jois. My personal practice began with him in the early 1980's and included Advanced Series.In classes, I use Ashtanga Yoga as a…
read more
We are currently holding classes on-line only.
Once appropriate we will continue live classes at:

CMA (Center for Martial Arts)
2122 Encinitas Boulevard, Ste 101 [Map]
Encinitas, CA 92024 U.S.A.
andrewh@joisyoga.com, juliet@joisyoga.com
Starting Address: