Sharath Jois: Stanford 2016
May 22 - May 27
Jois STANFORD
Workshop fee: $275
About
Paramaguru  
Sharath Jois   2016
---
DATES: May 22 – 27
COST: $275 for Full 6 Day Week
LOCATION: Ford Center, Basketball Courts,Stanford University, Stanford, CA, 94305
Parking at the Galvez Lot (Eucalyptus and Toyon Grove) free until 8:00 am, visitor parking rate $1:50 an hour until 4:00pm
Parking can be prepaid at parkmobile.com zone #7296 
---
---
INTERMEDIATE QUALIFICATIONS: For those considering registering for the Intermediate Series workshop, please note that you should be proficient in all Intermediate postures (āsanas) up to and including Dvipāda Śīrṣāsana. Please contact us if you have any further questions.
QUESTIONS: russellcase@hotmail.com
CANCELLATION POLICY: A 50% refund issued upto two weeks prior to workshop – no refunds within two weeks of workshop.
---
SPONSORED BY SONIMA.COM
in partnership with
Jois Yoga | Brooklyn Yoga Club | Miami Life Center
About The Teacher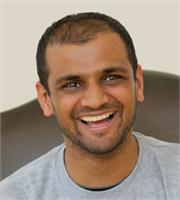 Sharath Jois
Sharath was born in 1971 to a family synonymous with Ashtanga Yoga. His mother, Saraswathi, was taught the practice by her father, Sri K. Pattabhi Jois (Guruji). Sharath's grandfather would also be his guru. Sharath began to learn yoga postures at the age of seven and at nineteen took up a dedicated yoga practice with…
read more