Yoga Philosophy – Bhagavad Gita with Shrikantha Shastri
Sunday Feb 24
Jois ENCINITAS,
We are currently holding classes on-line only.
Once appropriate we will continue live classes at:
CMA (Center for Martial Arts)
2122 Encinitas Boulevard, Ste 101 [
Map
] Encinitas, CA 92024 U.S.A.
andrewh@joisyoga.com
,
juliet@joisyoga.com
Workshop fee: $25 - suggested donation
About
The Bhagavad Gita is a foundational text on yoga. Guruji mentioned over & over again that this is one of the best starting places for understanding yoga.
We are blessing to have Shrikantha here with us in the San Diego area. He is well versed in rich philosophical and ceremonial traditions of India. With great charm, he expresses the significance of the Indian tradition in a captivating and meaningful way.
Please join us for an afternoon of Bhagavad Gita chanting, philosophy, chai & chats.
About The Teacher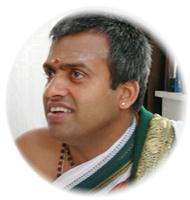 Professor Shastri
Professor Shastri is Sanskrit scholar from South India with extensive experience both here in the USA as well as in India. He offers services both privately and publicly with charm and depth. As a living resource for Sanskrit, we are fortunate to have him residing here in the San Diego area with his wife & two…
read more
We are currently holding classes on-line only.
Once appropriate we will continue live classes at:

CMA (Center for Martial Arts)
2122 Encinitas Boulevard, Ste 101 [Map]
Encinitas, CA 92024 U.S.A.
andrewh@joisyoga.com, juliet@joisyoga.com
Starting Address: