Dr Parla Jayagopal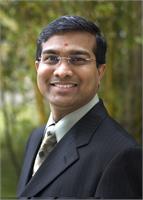 Dr. Parla S Jayagopal BAMS, MD (Ayurveda), MAOM (C) received his Bachelors degree in Ayurvedic medicine and surgery (BAMS) after completing five and a half years of training from Bangalore University. He also persued three years of education to receive Masters degree in Ayurvedic herbology from Rajiv Gandhi University of Health Sciences. Bangalore.
Dr. Jayagopal completed Yoga teacher's training course from Atma Darshan, Bihar school of Yoga. In addition to his twelve years of clinical experience, Dr. Jayagopal has traveled to Europe and Japan to propagate the science of Ayurveda. Currently he is teaching as chair and associate Prof. dept. of Ayurveda at American University of Complementary Medicine, Beverly Hills, which offers Clinical Doctorate in Ayurveda (AyD)/PhD programs. He recently graduated from Masters in Acupuncture and Oriental Medicine program.
In addition to the above he is also offering Ayurvedic clinical services at AUCM community clinic. Being proactive in propagating ayurveda to the community he has held seminars and educational demonstrations at various Yoga centers, senior facilities and health associations.
Dr Jayagopal has presented several papers in national and international conferences. Dr Jayagopal serves as chair of Academic committee Association of Ayurvedic Professionals of North America, BOD of California Association of Ayurvedic Medicine, Member Complementary and Alternative Medicine at Charles Drew Medical University, USC medical systems, LA. He also is a visiting faculty for Japan Ayurveda School, Tokyo, Japan and Southern California University of health Sciences, Whittier, CA.