Jen Wade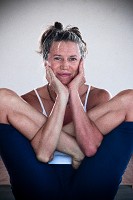 Jen began her studies of yoga in 2002. Upon relocating to Orange County in 2005, she began practicing Ashtanga Yoga under Authorized teacher Diana Christinson. Since 2007, Jen has been traveling to Mysore, India to study yoga at the Ashtanga Yoga Research Institute, now called KPJAYI, to undertake studies with Sri K Pattabhi Jois, his daughter, Saraswathi Jois, and his grandson, Sharath Jois.
Her interest in yoga led Jen to take an interest in Ayurveda, eventually completing a program at the California College of Ayurveda. Jen feels blessed to have had the opportunity to continue her studies of Ayurveda in Mysore, under the guidance of Anil Kumar at his Panchakarma clinic. She continues to incorporate the teachings of Ayurveda into daily life, and is most fascinated with utilizing food as our best medicine for healing, and health maintenance. Jen also studies Sankrit and chanting with Laxmish Bhat in Mysore, India.
In 2011, after several extended trips to India to study at KPJAYI, Jen received Authorization to teach Ashtanga Yoga in the tradition of Sri K. Pattabhi Jois.